WELCOME TO RATHINAM GROUP
Rathinam, as a premium Institution is known for its unique quality of Education. Rathinam Group is the only institute that brings education, information technology (IT) development, and infrastructure development under one roof. The Group offers various traditional and modern courses to aspiring students who come from across the globe.
Rathinam Group's campus is spread over 70 acres and is situated in south Coimbatore on NH 209. Bestowed with a state-of-the-art infrastructure, the group takes great care in selection of its qualified and experienced teaching staffs.
It is the place where countless leading MNC companies recruit from well-educated, well-informed and well-trained hands – on students. Rathinam Group is bringing about a revolution in education.
Our unique programme is a great way to stay motivated, stand out from the competition, become more valuable to prospective employers, and give an opportunity to realize the full potential of the students.
Rathinam trains its students to develop with growing demand of aspirants in gaining knowledge of current global management practices and perspectives by providing the inter curriculum and hands – on training. Rathinam believes in creating tomorrow's leaders and to develop variety of skills to the students which the employers are increasingly looking for.
Institutions, Technopark & Housing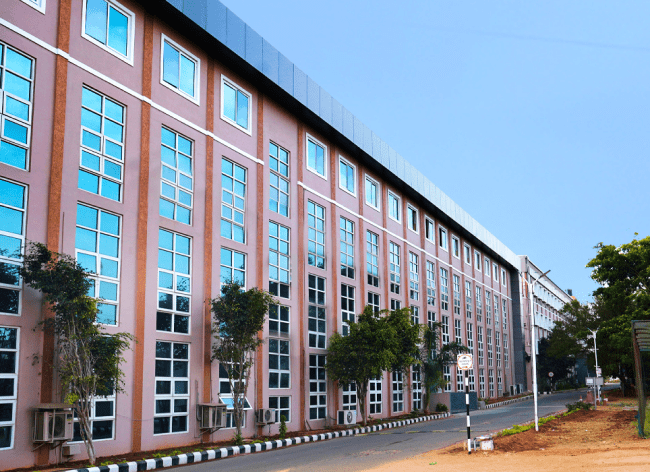 The saga started in 1979, with a Matriculation school located in Eachanari, Coimbatore. Right from its inception, giving the best in all forms is the only motive of the Rathinam Group. After making a healthy run in the industry for more than 20 years, Rathinam Group expanded. Now it is named to Rathinam Techzone, a campus with various institutions, encompassing the spectrum of Pre-KG to Ph.D education and Technology Parks, including a Special Economic Zone (SEZ).
There are ~4000 students enrolled under the institutions and ~14 companies located inside the IT Park and SEZ, backing more than 2500 employees. Rathinam Group also has multiple faces by pioneering education, Information Technology(IT) development and infrastructure development (IT Park / Housing Development) in South Coimbatore. Rathinam Group approaches education from a different angle. It offers education in a new way that no other institution can offer. Learning, Working and Living – this is how we define life at Rathinam!
Rathinam's educational institution provides quality schooling with a focus on holistic development and innovation.
Rathinam College of Arts and Science is a renowned institution offering diverse academic programs and fostering a culture of excellence.
Happy Campus with innovatic 360-degree approach- with Unique Peer learning methods on Advancement.
A Premier Institution that nurtures aspiring architects through innovative education and design-centric learning approaches.
College committed to training skilled physiotherapists and promoting wellness through evidence-based practices.
We offering comprehensive management education with an emphasis on leadership, entrepreneurship, and industry relevance.
Rathinam Community College
KPM Matriculation Hr. Sec. School
L&T Sponsored Skill Training Centre
NSDC Recognized Skill Training Centre
IT Park & Incubation Center

Rathinam Techzone – IT/ITES SEZ and Business Parks

RAISE – ATAL Incubation Centre (NITI-AAYOG Sponsored Incubation Centre)


DSIR recognized
R & D lab
Inspired Living & Infrastructure

Rathinam Shelters( Housing & Co-Living zone )

Rathinavani 90.8 Community
Radio

Location within the limits of the "smart city of Coimbatore" is one of the primary highlights of Rathinam Institutions. Rathinam is more than just a college. It is a new idea in education that takes the concept to a higher stratum. It's an experience that no other educational institution in this category can offer. It's about life in all its dimensions – Learning, Working and Living. What the college offers has an impact on all facets of life, to which learning is just one aspect. The college preempts what education in the future would be because any learning environment that exists in isolation, divorced from the reality of the world outside the campus, is bound to be stagnant.
So the advantages that it offers are indeed enormous, with Project and in-house training at the IT Park and SEZ within the campus. Access to professionals, real time experience and better institution-industry interaction is facilitated by the proximity of the SEZ in the times to come.
A group of institutes including engineering, management, arts & science and also the international school, aim to educate an individual from the very first stage of learning process and show him/her a path to pursue excellence and lead towards successful life.

A group of institutes including engineering, management, arts & science and also the international school to educate a child from the very first stage of its learning process and show him/her the perfect way towards successful life.

Creating an ecosystem for technical innovation, the Rathinam Technopark offers amenities and facilities for technical companies as well as institutes to leverage the best of the latest available resources to create something new everyday.

A home to a large group of students, employees, and staff members with a comfort that they would never like to step out from. All the basic needs and other requirements to live a comfortable and peaceful day is assured with the fun of technology like free Wi-Fi.

An inspiring and optimistic motto with the message of celebrating life is primarily highlighted in Rathinam rather than just whiling it away without a motto or goal! Rathinam treats one's life as a festival of thoughts and celebrates it with utmost joy in the form of never ending quest for success!